This guide is partially based on a guide compiled by Professor Ng Soon Aik (with guidance from TPCi).
General
Modified hardware
Hardware that has been modified for cosmetic purposes (such as third-party shells) are allowed, as long as the modifications do not interfere with the electronic components in any way. If issues occur with controller connectivity, players may be asked to use another controller.
Third-party accessories
While first-party and officially licensed hardware are recommended, there are no rules against other third-party accessories for the Switch (except for controllers – see below). However, if these accessories cause issues during an event, Judges may ask players to remove the dock/stand. Do note that all accessories that connect to the Switch must be wired – notably, this means that wireless headphones of any sort are not allowed. Additionally, as with any item being used as a tournament, accessories that are likely to cause distraction to other players (such as light-up USB-C cables) may be prohibited by Tournament Organizers.
Please note: there are reports of unlicensed third-party USB-C accessories causing Nintendo Switch systems to become unresponsive. Use at your own risk.
LAN/Ethernet adapters
First-party and officially licensed LAN/Ethernet adapters are recommended for use at Play! Pokémon tournaments, as most adapters are not compatible with the Nintendo Switch. The Nintendo Switch only supports some adapters using the ASIX AX88179 (max speed 1Gbps) and ASIX AX88772 (max speed 100Mbps) chipsets.
Controllers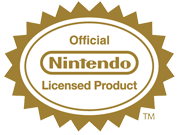 Per the Play! Pokémon VG Rules, Formats, & Penalty Guidelines, players may bring and use an "officially licensed wired controller". All officially licensed items since 2012, including controllers, carry the "Official Nintendo Licensed Product Seal" (see right) on their packaging.
PowerA, Hori, and PDP all currently manufacture controllers and are authorized to use the Nintendo Seal (as well as Nintendo themselves). In past years, ASCII/Asciiware, Bandai, Bondwell, Guillemot, Hasbro, InterAct, Konami, Logitech, MadCatz, Namco Bandai, NubyTech, Panasonic, Pelican, Sammy, Sharp, Taito, and Zen Group (which creates the @Play controllers for GameStop/EB Games) also made controllers. However, always look for the seal on the product's packaging, as not all controllers made by these companies are licensed.
Notably, controllers by third-party companies 8BitDo, Scuf, Astro, KMD, Razer, Valve, Evil, BEBONCOOL, JAMSWALL, and Sunjoyco, as well as controllers for other video game systems, are not licensed by Nintendo and therefore cannot be used for tournament play.
Nintendo Switch Pro Controller
The official Nintendo Switch Pro Controller can be used for tournament play in wired mode (either using a USB-C to USB-A cable into a dock or a USB-C to USB-C cable directly into the system or a stand). To enable wired mode, you must toggle a setting in the Nintendo Switch system:
| | |
| --- | --- |
| Step 1: Select System Settings from the HOME Menu. | |
| Step 2: Scroll down to Controllers and Sensors. | |
| Step 3: Set Pro Controller Wired Communication to On. | |
When connected, the Pro Controller icon will now show "USB" above the battery indicator.